I have to admit Google gets all my points for April fools' day jokes this year!
Google Translate for Animals:
The 'Translate for Animals' application for the Android phone is my personal favourite, though I knew right away it was an April Fools' Day joke!
If you've not yet seen the video, watch it below.
I wish it was real;  it would really help me understand if Archie is happy, whether he'd like MORE walks and if he really likes eating kibbles.
Sadly, it's a fake.  Were you convinced by it?
Google Street View 3D:
My second favourite April Fools' prank was Google's Street View 3D: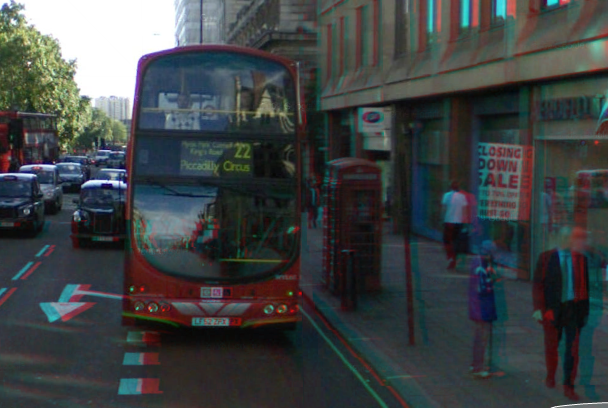 Whoa! That bus is coming right at me!
See it for yourself by entering Street View and clicking the man in the 3D glasses on the left.
I've not put on my 3D glasses yet, but I'm pretty certain it won't actually work. Have you tried?  Does it work?
Also, I'm not sure how useful Street View 3D would be in real life – though it would be pretty cool to play with after a couple of beers!
And finally…
A few more notable Google gags included using the power of Dr Wave's 'waving' to notify you of new 'Waves' and Google renaming itself Topeka.
Plus, today Google has been showing strange units of time, regarding its speed returning queries:
Results 1 – 10 of about 1,830,000,000 for Google. (0.16 centibeats)
I've also been getting speedy results in 'warps' and 'jiffies.'
Those crazy Googlers have farrr too much time on their hands!
So, tell me:
What was your favourite April Fools' joke this year?  Did you fall for any jokes?  Did you create any genius jokes that fooled lots of people?