Today, I received an invite to the new social networking website 'Gravity'.  It aims to connect people with shared interest and help them spark up conversations.  In their own words:

Gravity connects you with people you should know and should be talking to because they share your passions.
Since signing up, I've decided Gravity could possibly be a rival to fellow social networking website, Twitter – but only if it's marketed to the correct people.

Why?
I think Gravity does everything Twitter does, but fills in a couple of gaps that could leave first time Tweeters confused. After signing up to Gravity, you're not left thinking 'OK, what do I do now'. For that reason, I think Twitter quitters and Twitter avoiders will 'gravitate' towards this new site!  (Hahah, get it? Gravitate!)
Why Twitter Quitters will prefer Gravity:
I have dozens of not-too-techy friends who have joined up to Twitter because of the hype.   They've joined up to see what it is and they've just posted one thing, usually along the lines of:
"I'm on Twitter. So, what do you do now?"
And then they quit.  In fact, a Nielsen report from April last year claimed a staggering 60% of new Twitter users quit after the first month.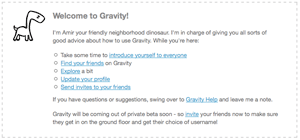 Some people just don't get Twitter and they'll ask stuff like:
What's it meant to be used for?
What do you do on it?
How do I find people to talk to?
With Gravity, new users bypass those hurdles; right away they can connect to people with similar interests with very little effort.  For example, I invited my Mum so she can talk to people following the Dressage topic in the 'animal world' (she's a horse enthusiast.)  I am currently talking to people about SEO, new technology and blogging.
By using a forum-like structure, Gravity cuts out all of the 'noise' of other people's off-topic conversations.  You won't read what everybody's having for lunch, unless you go and visit the 'food' section of the site and actively participate in that particular discussion.
You're 'pulling' what you want out of the site while finding like-minded people who share your interests.  It's something that is very appealing about Twitter in theory, but in reality is harder to do.  It can take you ages to find decent people on Twitter and have a conversation.  Especially if you don't already know people using the site in the first place!
It's easier to get chatting on Gravity:
Conversation on Gravity is MUCH easier to follow.  I find it hard to keep track of Twitter conversations sometimes, even when using an app like Tweetdeck.
Starting conversations is easier too, as you'll be tweeting it to a board of people who are likely to be interested in your topic, thus they're more likely to reply.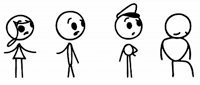 This is unlike Twitter, where you simply broadcast your message out and hope your followers (or random people) will reply.  Often responses are few and far between for newbie's on Twitter as they only have a handful of followers.
As you interact with the site more, Gravity starts recommending topics you'll probably be interested in.  Each topic will have lots of lovely people participating in them, making it easy for people to meet more like-minded people.
Reward based system:
Gravity allows people to collect shiny badges for their profiles.  While at first this isn't the number one reason for using Gravity, it certainly will help first time users start to interact with the site more giving them reason to explore.  The more you do, the more badges you get.  Clever, eh?
But, wait?  Isn't this just a forum?
Essentially, gravity is nothing more than a fancy forum with a fancy recommendation engine and a couple of shiny badges.  It needs to be marketed correctly so people will sign up in droves.
I don't think marketing it to Twitter/Tech lovers is the way forward:  Hardcore twitter users are happy with what they've got.  The secret to Gravity's success will be marketing to the Twitter Quitters and looking for people 'who don't get quitter' and getting them on board.
I think the video on the homepage nails this effectively.  I got straight away what the site is used for – and the video doesn't even contain words – it's fantastic.
Monitising Gravity:
I've no idea how Gravity are planning to turn a profit, but with a recommendation engine that knows you're interests probably better than you do, I think it'd be wise to add some contextual advertising.  For example, Gravity could input a sponsored recommendation tactically for a product or service where people are discussing a particular need.
For example:
X tells Y that they want to set up a new website soon. Gravity knows they like technology and new trends, Gravity shows an advert for cloud hosting.
It'd certainly be better than the '25 and like pink?' adverts I get on Facebook!
If Gravity makes enough money without annoying users, it could become extremely profitable, perhaps leveraging it above Twitter.  If Gravity had more users than Twitter and higher rate of participation, would Google, Bing and Yahoo take notice?  Would we instead see a deal for real time 'Gravity' search in the search engine results?  Interesting.
Get your hands on a Gravity invite:
As Gravity is currently in private beta, you need to be invited before you sign up.  I still have five invites left if you'd like to give Gravity a try.  The first five people who ask for an invite on this post can have them.
Your opinion:
Do you agree or disagree that Gravity could be bigger than Twitter, if marketed to the Twitter Quitters?  Have you used Gravity yet?  Do you like it or not?
Let me know your comments.
[All images copyright to Gravity and used here for illustration purposes.]