I help small businesses with their websites.
I can help you with search engine visibility, online marketing, copy writing and blogging.
Contact me:
Let's have a chat!  Would you like me to write for your website?  Help with your social media?  Want some advice?  That's cool,  simply get in contact by emailing me@nullsupercarly.co.uk
My writing:
My proudest achievement to date is having a guest blog post published on Virgin.com, and it being featured on the homepage of their website: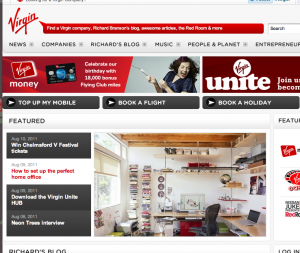 Featured on the homepage of Virgin.com
I've also written for the Metro, Groupon.co.uk, National.co.uk and several household names (under NDA so I cannot share, sadly!)
Blogging & affiliate marketing:
I run several well-trafficked style/fashion blogs that have had a mention in many notable publications including the Telegraph, the Independent, Fashionista.com, The Daily Mail, The Metro and many, many more.
These sites produce a healthy revenue from advertising and affiliate marketing. Largely, this is reinvested back into the sites, but it also reimburses me for the time I spend curating the content, adding new features and 'socialising' with my 47,000 likers on Facebook!  I do this in my spare time, I literally never get away from the internet!
Experience & Education:
In my previous job (which I quit in 2010 to pursue my MA), I did SEO, copy writing, online marketing, a bit of usability and a lot of tea drinking. Generally, I used to tweak pages in the company's portfolio of websites, watch them jump in the rankings and convert more sales…. It was lots of fun.  I did it for around 3 years and I must have been doing something right as they wanted to promote me to departmental manager, but I already had my heart set on returning to the student life!
In 2011, I completed my MA in Communications and Media at Sheffield Hallam University.  I finished with a Distinction.  I wrote my dissertation on the topic of virtual communities, focusing on Twitter specifically.  I focussed on one particular community,  looked at how it operates and discussed the appeal this community holds for its members.
Skills:
This is a basic list of things I can do, off the top of my head…
Fairly proficient with WordPress and StudioPress Genesis – I can design, tweak, edit and optimise themes
Fairly useful in Photoshop (as much as you need to be without being a full blown designer)
Very social, I love Twitter/Facebook/Pinterest & do this for businesses
Lateral thinker, good at finding workarounds for problems/issues
And, it also helps me think up good PR angles for stories/blog posts
I also love writing web copy, blog posts and press releases
Proven record in making webpages convert more after tweaking
Good eye for usability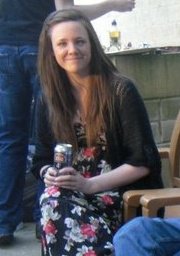 Things I love:
My Miniature Schnauzer, Archie.  He's a 6-year-old fluffy, scruffy, smelly dog that snores loudly but gives good cuddles.
My Terrier-mix, Bertie.  He's a 3-year old licky, bouncy, fun-loving dog that is like my little shadow, he won't leave my side!
Apple things. I'm a tiny bit of an apple fan girl… don't hate me for it!
Social media:  I'm a total Facebook , Pinterest Twitter addict.
CUPS OF TEA…. With those malted milk cow biscuits…nom nom nom….
The colour pink: I'm a true girl!  If it's available in pink, I'll buy it in

PINK…

Fashion blogging: it's become a true hobby over the last few years. Love drooling over pretty things!
Tweaking & building websites: it's not a job for me, it's something I love doing!
Stationary:  I go cuckoo over pens, notebooks, Filofaxes etc *drool*.