Sexy Web Design:
Create your own stunning interfaces that simply work
I purchased the Sexy Web Design book because I know the author writes great articles in .Net magazine and I've read his blog entries on several occasions. I must say the book has lived up to my expectations – it's taught me some great new methods to use while designing interfaces and reinforced a lot of things I've often thought but never known why!
Sexy web design has proven that firing up Photoshop should be the last part of your web 'design' process. I know it sounds daft – why should a design tool be the last part of designing? After reading the book you realise it's right! It's obvious why!
Quite simply, this book teaches you to think about the following principle:
'It's not who you're designing for, but what activity you are designing for.'
The Sexy Web Design book has taught me to establish what the main 'goal' or focus of the site is first and then design accordingly – not to jump straight into Photoshop! It has also taught me couple of new skills, from designing my structure on paper to planning and wire-framing.
Web design has to go beyond pretty.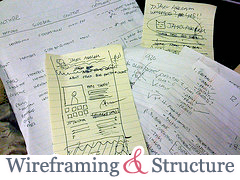 Designing a website isn't all about the glitz and glamour. That stuff helps, but you've got to get the foundations right first.
It's not about shapes, colours and layers – it's about making stuff work. It's about tying together key elements to help the user to achieve their goal. A goal can be anything from ordering tickets to signing up for an email newsletter.
To help somebody achieve their goal, you need to give them what Stocks terms 'key visual signals.' These point the user in the right direction towards completing the tasks on the site.
Thinking about your user is part and parcel in creating interfaces that users will love and Stocks' book will help you grasp this quickly.
I recommend reading this book if you're guilty of designing without thinking, or if you need to drive conversions on your website.
I give Sexy Web Design 10/10 – I thoroughly recommend it!
Buy Sexy Web Design

If you're thinking about purchasing Sexy Web Design, click the following links.  I'll make a commission for recommending this book.  I only ever tell the truth in my reviews, if I hated the book I would have said! But on the contrary, I think Sexy Web Design is well worth the price!
Buy now on Amazon.com or Amazon.co.uk