FREE download of my personal stash of bookmarks: loads of places for link building, neatly organised for you.
Here for the FREE STUFF?
If you've come here from Rhys' fine blog for the free stuff, the wait is over!
(And, if you've come here randomly, check out the fab post I wrote about building fantastic quality links by clicking here and then come back and help yourself to the free stuff anyway!)
To access the fantabulously free download, you'll just need to fill out the form below:
Sign up for the free link booster pack here:
[wp_email_capture_form]
You'll get:
LOADS of places to build links, all
neatly organised into categories &
100% FREE for you!
.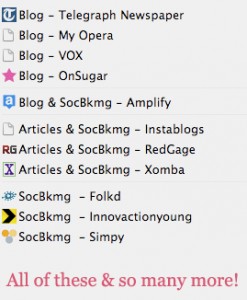 Once you've confirmed you're a human (by confirming the link I'll send you via email) you'll be able to access the bookmarks download right away.  So what are you waiting for!!!???
As well as the great freebie, you're signing up for my email newsletter, which I'll send out approximately once every three months.
I'll round up some of the most interesting social media developments AND inform you of any new posts on this blog.
Occasionally, I'll send out freebies like this one too! (Oh yeah and there'll be no spam, because SPAM SUCKS!)
Enjoy – and any questions/requests/errors?  Add them all in the comments section of this page.  Thank you 🙂